Rebirth of the IMC?
Last year rumors began to swirl that someone had interest in the old IMC (Indianapolis-Michigan City) line.The IMC was part of the NKP/N&W/NS but was pretty much shut down by the NS in the early 1980's.Over the years, various operations were done on the IMC, from CERA using it to interchange with NS, but eventually the line was shut down.All traffic moved to Frankfort via the Clover Leaf line and the IMC was left in the weeds.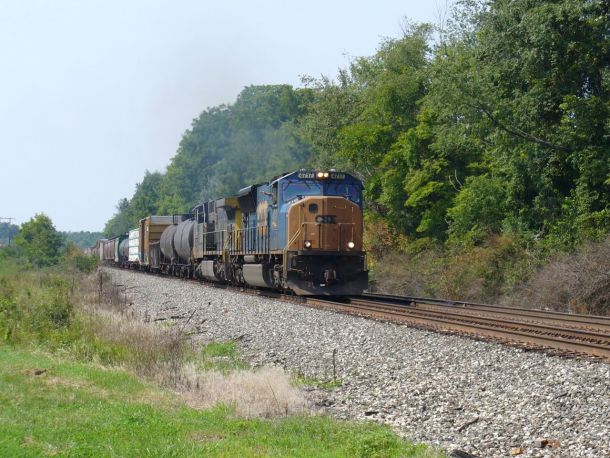 The engineer gives a wave from an eastbound near Chesterfield, August 24, 2011.
Well, over 13 years after I started, I've finally gotten this site set up to a point that it can become what I wanted to have at the very beginning: the comprehensive site covering all of Indiana's railroads, railfanning, and modeling.
It should be a news media site, a history resource, and central place for discussion and research. This builds on the popular Bull Session by putting news, stories, and information in a structured format that will be easier to browse and research. 
I hope to grow this site into a formal media outlet, possibly even on par with hard copy media like Trains magazine, with actual reporting being done by myself and others on current Indiana railroading topics. Of course, history will always have a place here and will be one of the major components of the site.
And, yes, eventually we'll have advertising here to help cover at least the cost of the server (it's been out of my pocket since 2007). I will strive to keep advertising relevant and Indiana-based so it will be worthwhile for users and advertisers.
Before adding ads, though, I am accepting donations...perhaps that will be enough and we can keep the site ad-free! 
Thanks to all of you loyal readers for keeping with me over 13 years. Here's to another 13...or more...